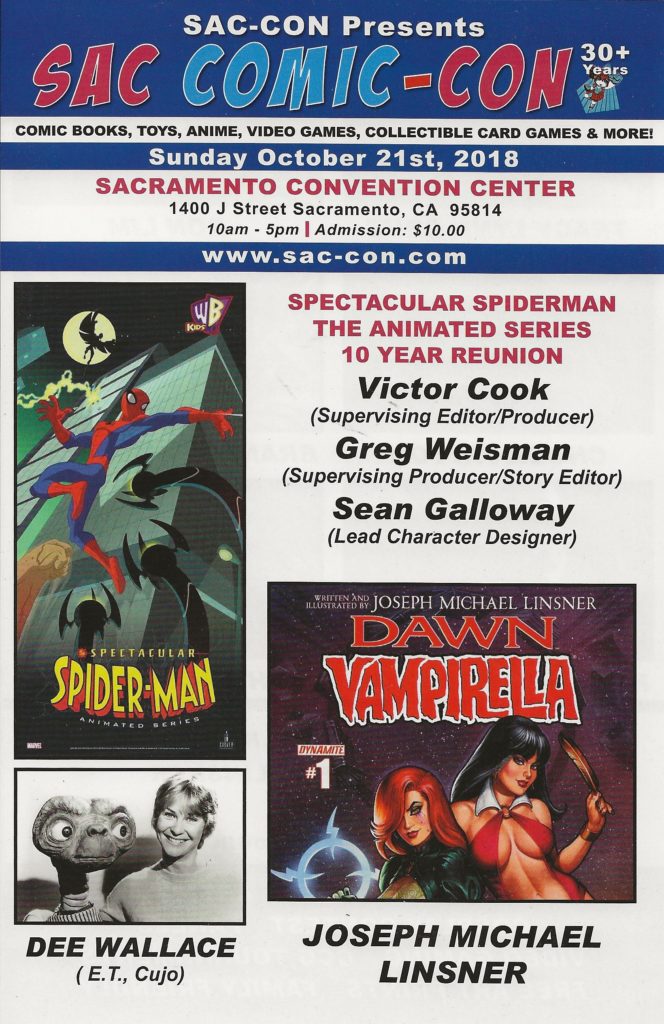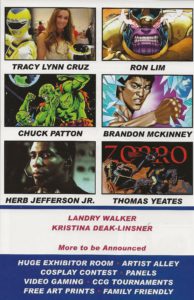 Cole and I went to Sac-Con and met some curious individuals…
Above: Directly from Marvel Earth-65: The Amazing SPIDER-GWEN!!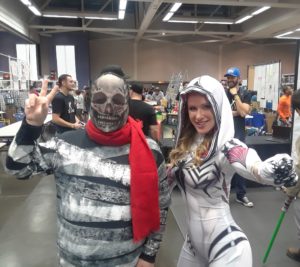 Cole as Sans from Undertale.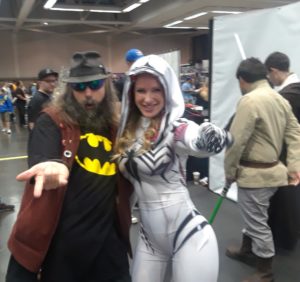 Spider-BatBearMan & Spider-Gwen!! (Plus a couple of Jedi!!)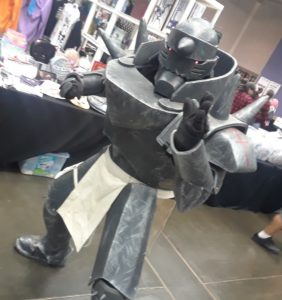 Then, suddenly and without warning: ALPHONSE ELRIC from the manga/anime series Full Metal Alchemist!!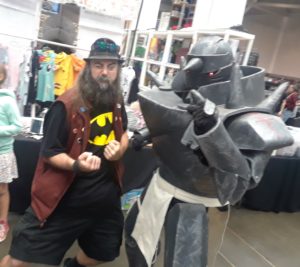 "Now we shall see whom has the better alchemical Kung-Fu!!"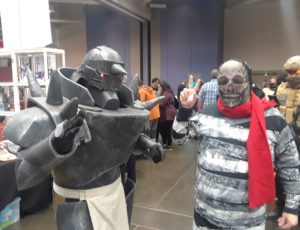 Anime Team-Up: Al Elric and Sans (Cole).
We didn't find a cos-playing EDWARD ELRIC (Al's alchemist brother),
but we DID find an Edward… Edward Enygma AKA the RIDDER!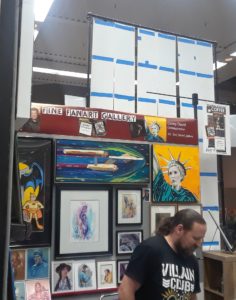 A cool art booth… I LOVE the Carrie Fisher as Lady Liberty! 🙂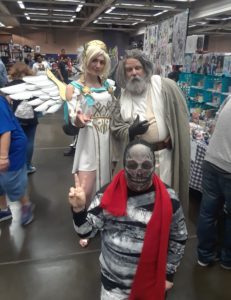 Since we saw a Leia Skywalker Organna Solo (via Lady Liberty artwork),
it makes sense we'd run into her brother Luke… (and not for the first time…)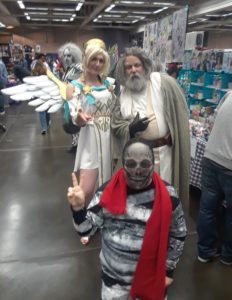 Beware… Beetlejuice lurks in the background… For now…!! Muhahahaha!!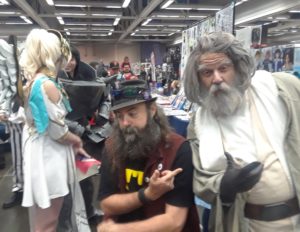 Jedis – UNITE!!! And behind us, [name] talks with an un-helmeted Alphonse Elric!!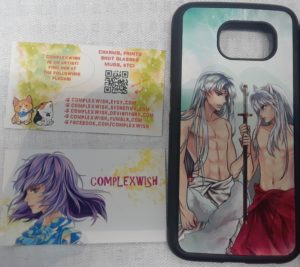 Custom phone case art featuring Inuyasha (in red) and his older brother Sesshomaru (in white)
from the manga/anime saga of Inuyasha.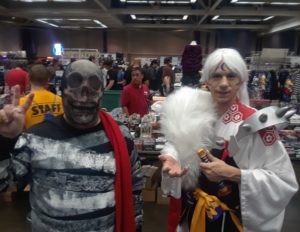 And speaking of Shesshomaru, guess who we found…?
One is born of the Year of the Dog and the other, the eldest son of Toga,
the Great Dog General yokai… Which is which?!?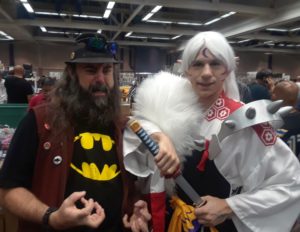 "GRRRR!! The die is cast! Let the battle begin…!!"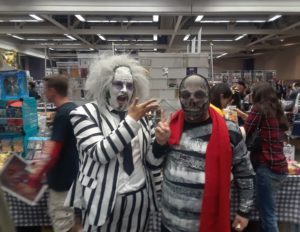 Heeeeeee's back!! Beetlejuice!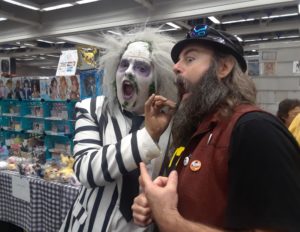 …Beetlejuice…
Wait…!! was that two times… or THREE?!? EAK!!!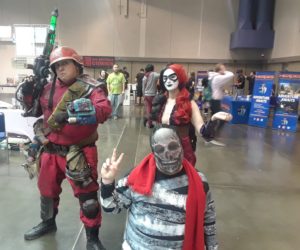 Harlequin from Justice League: Injustice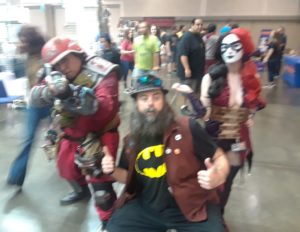 "Team Eclectic – battle blur motion action maneuver 3C!!!"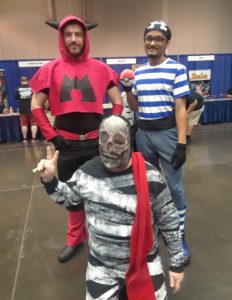 Sans (Cole) with representatives of Team Magma and Team Aqua from Pokemon!
Here comes the MARVELS!! Captain America and 616-Star Lord.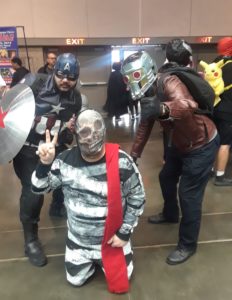 Marvel / anime team-up!!! (Is that Pikachu photobombing?)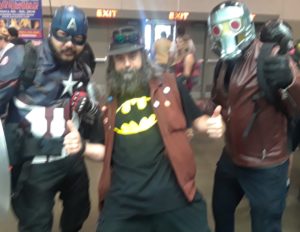 Marvel / DC team-up???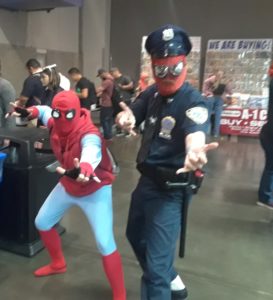 And speaking of Marvel team-ups… it's a Spidey multiverse!!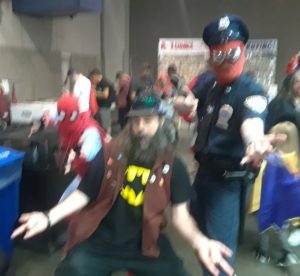 Some much cross-over action, the local time-space fields are gettin' a bit jangly!!!
(Okay, that's a good cover for the photoblur, right? heheh)
Alternative title: The dubious return of Spider-BatBearMan!!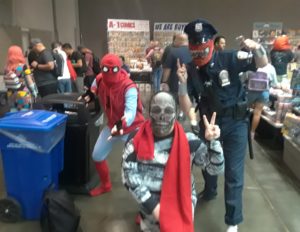 Peace out, ya'all and have a Marvelous day!!! EXCELSIOR!!