I used to work at Tower Outlet on El Camino AVE in Sacramento, CA, kitty-corner from the main Tower Records / Video /Books multiplex on Watt across the street.
From December 4, 1997 through Summer 1998, I worked there, my first manager was Rudy Danzinger (who's featured in Colin Hanks' Tower Records movie!), who it happens, when I was working at Tower, we were actually neighbors, only a few blocks away from each other.
During that first "tour of duty", I also worked at the doomed Comics & Comix Outlet… which was across the street – I could see the other one from the other! I was at Tower for five days a week and C&C for the remaining days of the week: two. All week, music and comics!
Sadly, though I was being groomed to take over as manager of the Comics & Comix Outlet, it didn't last long: the new owner of the chain (the first comic book store chain in California – and the Birdcage Walk one in Citrus Heights (in Sacramento county), the first comics store that I ever went to (and continued to go there every month for my new Marvels and DCs and  many, many, MANY back issues!) was DESTROYED and eventually closed – ALL OF THEM! Like seven or eight, nine I guess with my Outlet store…! This dick had totally FLUSHED the famous C&C chain just like he did all of his previous businesses (take his previous comic book store, it went out of business after he drove it into the ground and spent the money)! Before the entire Comics & Comix chain disappeared, the Solono, California store – which had been around for two decades, SUDDENLY burnt to the ground! Suspicions of arson were discussed.
In-between my two terms at Tower Outlet (December 4, 1997 – Summer 1998 and later during 1999 through 2000 or so…), I worked a holiday job at the main C&C downtown on K Street… Needless to say, there was a "mysterious" thief of the night drawer somewhere inbetween the night role-player gaming and the morning shift… Dunno if that ever got resolved or not… Again, one wondered… who…? *LOL* Eventually, the new owner (and destroyer) of Comics & Comix closed all of the stores and pocked money, loosing the merch, mostly to garbage bins at the downtown store – he didn't even think to sell off the store stock!
At some point after the demise of Comic & Comix, I heard that the former new (evil) owner got caught selling imaginary security systems to old folks using the 911 scare of the W. era to bilk their money! Apparently, he went to jail for a few years because of it. For A WHILE, there were like THREE different websites devoted to blasting to the world what a truly evil prick rat he is! OmG! And if I remember rightly, there was one blog from his then EX-wife, as he had been cheating on her and she found out! I DO remember that once, he had brought in two hookery-looking hozbots on his arms – neither of which was his wife, I had seen her with him in the store a few days prior… It was like and open secret! Horrid! She. was. sooooooooooooooooooooooooooo PISSED! I think most, if not all of those sites/blogs are gone, but who knows, the web might still store them somewheres…
Anyways, back to Tower, so I had mostly fond memories of my Tower experiences, but sad to see the chain go belly-up in 2006 (now, there ARE standalone Towers in Dublin, Ireland and a few in Japan to this day, so seek 'em out if you wanna!). I recently went to the big Good Will store that has moved into the former site of Tower Books / Records old on Watt Avenue, Sacramento… I wanted to see if anything of Tower remained… And it DOES!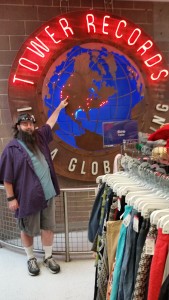 The metal / neon global signage on the back wall that leads into what in Tower's day was the back room with soundtracks, classical and other stuff at the Watt store! I was trying to point towards the light that represents Sacramento, it looks more like nearing Texas… Oh, well, you know where I meant! *LOL*
So, I'm off to see Colin Hank's new movie (he directed and produced), All Things Must Pass: The Rise and Fall of Tower Records at… where, else, The Tower Theatre in SacTown! (where Tower began!) There's to be a Q&A after the screening and Colin will be there with Tower founder Russ Solomon (who I met a few times when he dropped into our Tower store to talk with my original (cool) manager, Rudy.
I'll be wearing my old Tower tags like they's BLING! *LOL* Pics below: